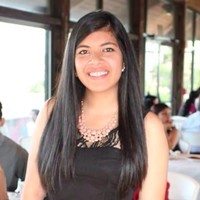 The Department of Communication is continuously impressed by the amount of work and commitment our students take to further their education and careers. There are many students that go above and beyond their class assignments to make themselves the best communication professionals they can be. Senior communication major Sahara Shrestha is a prime example of an outstanding student in the department.
Sahara originally entered UConn as a Biology major, but quickly changed after she realized that her people skills would be best used elsewhere. She has a strong passion for the entertainment industry and she aspires to spend her career collaborating with people, so she knew communication was the perfect major for her.
Through her love of communication, she decided to become the co-founder of the UConn  Chapter of Spoon University in January of 2016. Spoon University is an online journalism website about food. The writers feature new restaurants, health trends, and anything related to food. Sahara later became the President, as well as the Marketing Director for the chapter. Her role as the Marketing Director makes her the voice of the chapter and allows her to maintain the chapter's reputation through social media and planning fundraisers. This opportunity has been an incredible collaboration of passions. She is a self proclaimed foodie, and getting an opportunity to use food to further her career was everything she could have hoped for.
Her experience with Spoon University has given her a lot of insight as to what career path she wants to take post graduation. She noted that she would love to continue working with SpoonU Headquarters, but she has dreams of working in the entertainment industry. Her experiences at UConn and in her positions have paved the way for her to continue working in marketing, and fulfill her dream of one day become a communication professional in New York City.
Sahara has truly found her place within the Department of Communication. She stated that her favorite course over her four years has been COMM 2940. She found the course to be incredibly helpful and felt that it was the most hands-on Comm class that she has taken. Sahara loved being able to physically create something and found digital production to be a very interesting topic. Over her four years, Sahara has created a strong connection with current Graduate Teaching Assistant Ambyre Ponivas. She has taken multiple classes with her, and found that she teaches class in a way that makes students interested and invested in their studies.
Whether it be her involvement with Spoon University, or in her studies, Sahara is well-rounded student that the Department of Communication is lucky to have as part of our program. Sahara constantly follows her passions, and we're lucky her passions have led her to UConn!
If you're interested in joining the UConn chapter of Spoon University, email Sahara at sahara.shrestha@uconn.edu.
---