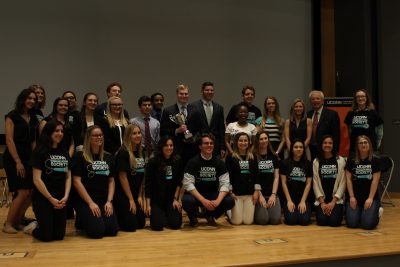 Every year for the past 5 years, the Communication Society has hosted their Annual Public Speaking Competition. Students from all majors and backgrounds audition to win the title of "UConn's Best Public Speaker". The 2018 competition is just around the corner, taking place on the evening of April 9th.
"The competition is a way for UConn students to have a strong opinion or idea, and be able to express it while providing evidence to support their opinion" says Public Speaking Competition Chair Jessica Devitto. Students will be suiting up and practicing their public speaking techniques that they've learned throughout their time as an undergraduate student. The contest features 5 excited students that will be judged by three esteemed judges. The judges this year are the Comm Department's Professor Amanda Denes, WFSB-TV and Connecticut's CBS affiliate Caitlin Nuclo, and NBC Connecticut's political reporter Max Reiss.
Year after year, the COMM Society searches for participants with "previous public speaking experience, charisma and an overall confidence that will light up the stage" says Devitto. Any undergraduate student is welcome to audition, which diversifies the participants and brings interesting perspectives to the event. This year's topic is "What impact is social media having on our personal relationships?". Each contestant will have the opportunity to speak out about whether or not they feel social media is having a positive or negative influence on people's personal relationships through multiple rounds.
The competition is composed of 3 different rounds. The first round consists of prepared speaking, where each contestant will deliver their take on the subject in under 5 minutes. During the second round, contestants will be asked a short question by the judges based on their first speech, and they will have 2 minutes to give a response to the question. In the third and final round, contestants will be presented with an impromptu topic by the host, and the contestants will be given 15 minutes to formulate their 4 minute response. At the end of the third round, the judges will award one contestant as UConn's best public speaker, and they will distribute $400 in awards.
Devitto stated, "This event is heavily anticipated by the members of the Communication Society because we get to see their months of hard work pay off. We also love attending because it is a way to gather the COMM community together to recognize accomplishments while building friendships". Along with the rest of the Communication Society, Devitto has spent months working to make the event run smoothly.
Overall the COMM Society sees this as an opportunity for students to have their thoughts and ideas heard by people of different ages, races, and genders. It allows for contestants to get joy out of knowing they did something they might never have thought about doing before. As the competition rapidly approaches, we're looking forward to being blown away by the contestants for the 5th year in a row, and we hope to see many familiar faces in the crowd.
Event details:
Monday April 9, 6-8pm, Student Union Theater
Questions? Contact Jessica Devitto at jessica.devitto@uconn.edu
---