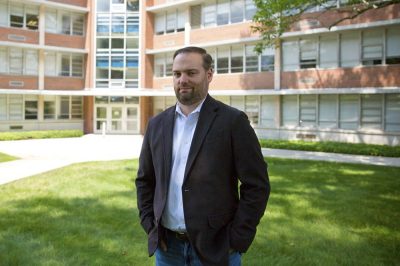 Welcome to the Department of Communication! Despite the challenges presented by COVID, we have had another great year in the department. Our undergraduate program continues to grow in both popularity and visibility on campus, and we now serve over 900 majors. We continue to focus on both theory and applied coursework, and our internship program now enrolls over 100 students annually. This emphasis on merging theory and application is paying off for our graduates, as recent data from the Center for Career Development suggests that 90% of our alumni are appropriately employed within a year of graduation, and gravitate toward career tracks in marketing, media, operations, business development, sales, and human resources. Our talented graduate students continue to play a major role in the department and have recently secured tenure-track faculty positions at universities such as Louisville, Missouri, Cal Poly, West Chester, and UNLV, to name just a few. I am exceedingly proud of both our faculty and our students, who have weathered the uncertainty of migrating instruction to online with great resilience and an overwhelmingly positive attitude. It truly has been a team effort.
We are very proud of all we do here in Communication, but we could use your help. Due to cuts in state funding, we were already looking at budget reductions in 2021. Now with the added uncertainty of the COVID pandemic, we are more reliant than ever on alumni contributions to continue providing the quality academic experience our students deserve. For example, the software that we use to teach social media network analysis costs $250 per year, per lab desktop. Our production courses are reliant on aging cameras that will costs thousands to replace, while our Lambda Pi Eta members pay out of their own pockets to travel to conferences and network with employers.
Please consider donating. No amount is too large or too small, and your tax-deductible contribution will help ensure that we can continue to provide an intellectually fulfilling and professionally advantageous degree to generations of future Huskies.
Yours Sincerely,
Ken Lachlan
Professor and Department Head