Course Enrollment Guide
Need help figuring out your course enrollment for next semester?
Determine Your Remaining Academic Requirements
Step 1: View your Academic Requirements Report
Step 2:  Generate your Plan of Study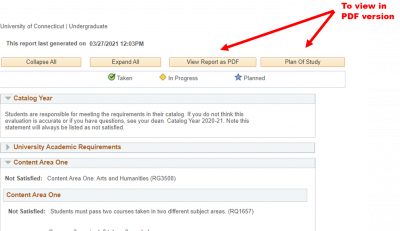 Step 3:  Interpret your Academic Requirements (or "Advisement") Report   
Step 4: Review your Unofficial Transcript for accuracy     
Major in Communication – Plan of Study – for those who declared a CLAS Major BEFORE Summer 2021
Major in Communication – Plan of Study – for those who declared a CLAS Major AFTER Spring 2021
Wait Listing and Permission Numbers for COMM Courses
The COMM class I want to enroll in is full: Can I still get in?
You can add yourself to the wait list for the COMM course IF a wait list has been set up for the course.  You'll know a wait list has been set up if you see the "wait list if class is full" option available during course enrollment.  If a spot becomes available later, you will be emailed a Permission Number or directly enrolled by the wait list manager (if there is no time conflict and space in your semester course load).
Should you email the COMM course instructor to obtain a Permission Number?
NO. Permission numbers are issued by the Department's wait list manager and will be issued only to those on the wait list. COMM instructors do not issue permission numbers.
For courses outside of the COMM Department, check with the department offering the course for their wait list and permission number policy.
For additional information about Wait Lists and Permission Numbers, please see our FAQ page
CLAS General Education Requirements – Approved Course Options
Other Course Registration Help Tools
Graduating this Semester?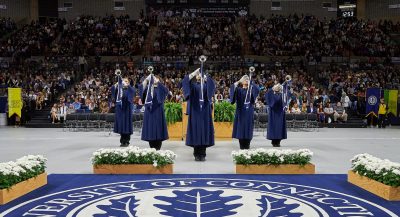 Follow these Steps:
Step 1 - Apply to Graduate
Step 2 - Submit your Final Plan of Study (Complete immediately after applying to graduate, IF your semester schedule is finalized!)
COMM Career Prep – Undergraduate Certificate in Communication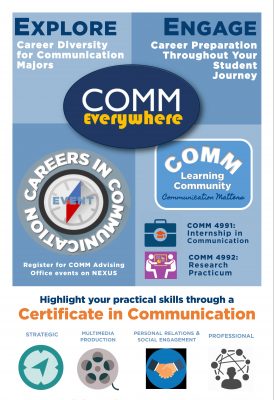 COMM Everywhere is the COMM Advising Office initiative with the two-fold purpose of helping COMM students: 
EXPLORE the diversity of career options open to them through the wide-ranging knowledge and skills acquired through coursework in Communication; and,
ENGAGE in career preparation throughout their student journey.
The Department of Communication and COMM Advising Office host a variety of exploration and engagement programming:
a First-Year Experience COMM Learning Community (UNIV 1810) specifically for COMM Majors, featuring CliftonStrengths assessment-based activities to help students discover their greatest talents and understand how to use them to achieve academic, career, and personal success;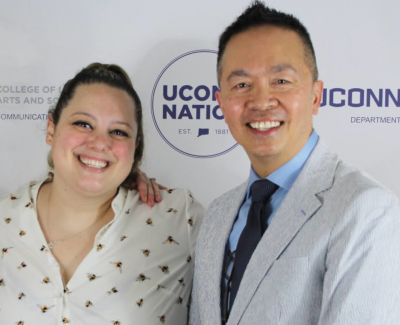 Katie D'Antonio and Joel Nebres, Academic Advisors
  Contact Information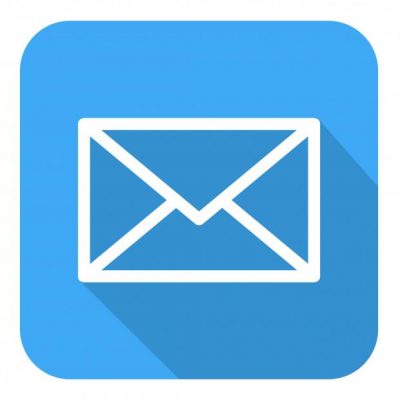 Kathryn D'Antonio – kathryn.dantonio@uconn.edu
WebEX Meeting Room: https://uconn-cmr.webex.com/meet/ked10017 
Phone in:  US Toll (through WebEX, room  644 100 565)
José (Joel) Nebres – jose.nebres@uconn.edu
WebEX Meeting Room: https://uconn-cmr.webex.com/meet/jrn06001
Phone in: US Toll (through WebEX, room 644 625 203)
Office Location:   Arjona Building, ARJ245
Phone: (860) 486-3687 (during COVID-19 crisis, only voicemail available)
General Questions? Please contact one of the advisors listed above.
The COMMuniqué Advising Office Newsletter
(Previous Issues)