2018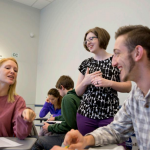 COMM 1000 Recognized in 2018 CLAS Dean's Report
CLAS Dean's Report — January 31, 2018
Assistant Professor in Residence, Steve Stifano, along with his work with COMM 1000: The Process of Communication was recognized in the 2018 CLAS Dean's Report. This course recently received the National Communication Association's Basic Course Program of Distinction Award. See the feature on page 8!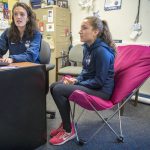 Student-Athlete Strong: Courtney Akerley
UConn Today — January 31, 2018
Undergraduate Communication major, Courtney Akerley, is featured in UConn Today's series, Student-Athlete Strong. In her interview, she discusses her academic achievements, future plans, and the importance of her teammates.