A Symposium of Communication Professionals, Academics, and Students
A Careers in Communication Networking Event
Storytelling in a Digital Age – Event Program PDF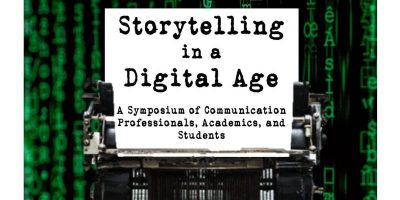 The discourse on storytelling is probably as old as storytelling itself.
From Artistotle's Poetics, to (director and former Pixar storyboard artist) Emma Coats' tweet of twenty-two tips to good storytelling—many have tried to articulate what makes for a good story.
Recently, we've turned to science, specifically neuroscience, evolutionary biology, and cognitive theory, to help us understand WHY we love and rely so much on storytelling.  We are, as Jonathan Gottschall puts it, The Storytelling Animal (2012), whose evolutionary ancestors succeeded because of storytelling, "the greatest technology that humans have ever created." If evolutionary psychologists are right, and the human propensity—even, addiction—for stories was key to our earliest evolutionary success, then the discussion on storytelling is far from over.
Story master Robert McKee extends this practical application of storytelling's power in Storynomics (2018), offering both an insightful analysis of interrupt advertising and also a rallying cry, challenging us to consider how storytelling is the future, not only to building our connection with brands but our connection to one another.
We asked the invited panelists in our Symposium, this question:
Is there a storytelling power* that your own storytelling has unleashed?
As our resident experts on the 'story-making mind' in action, our Symposium panelists are invited to share, in a five-minute blurb, a particular insight about storytelling that they've acquired through their work in or study of storytelling.
To Register (FREE) for this Event:  Eventbrite
Our Symposium Panelists
---
Adam Cormier (CLAS '97) – Vice President at PAN Communications, an integrated marketing and PR agency servicing B2B tech and healthcare brands.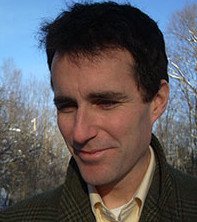 Kenneth P. Cormier (CLAS MA '03, PhD '10) – Associate Professor of English at Quinnipiac University, where Ken is the Director of Creative Writing.
Patrick Dugan – Creative Director & Chief Copywriter at Adams & Knight Advertising & Public Relations, an integrated marketing agency dedicated to serving clients that help people live healthier, wealthier, happier lives.  
Anne Oeldorf-Hirsch – Assistant Professor in Communication Technology & Social Media, University of Connecticut, where she conducts research in the Human-Computer Interaction lab. 
Hayley Reissfelder (BUSN '16) – Senior Account Executive at BackBay Communications,  a full-service marketing and PR agency focused on the financial sector, where Hayley focuses on the planning and execution of digital marketing and social media programs for BackBay's financial technology clients. Hayley also owns and writes for her fitness blog, Healthy Hayley.
---
* The reference to a storytelling "power" comes from a section in McKee's book, titled "The Eight Powers that Propel Story"(pp 40-43). 
WHY ONLY A 5-MINUTE BLURB?
The panelists' insights will begin a discussion, rather than provide the definitive statement on storytelling. We plan for the discussion to continue, perhaps to delve deeper, in the Q & A period after the panel and the networking hour that follows.
To Register (FREE) for this Event:  EVENTBRITE