Speaker information will appear below as it is confirmed. If you require an accommodation to participate in one of these events, please contact Adam Coley at 860-486-1042 or

adam.coley@uconn.edu

at least 5 days in advance of the event.
For 2021-2022, Speakers Series events will take place via WebEx at:
http://s.uconn.edu/commspeakers
Past Speakers Series Events
Tuesday, April 12, 2022 – Dr. Hyunjin Kang
Presentation Title: "Human vs. Machine Agency in Human-AI interaction"

The increasing use of artificial intelligence (AI) is revolutionizing how we interact and communicate with everyday technologies. Current smart technologies capable of producing information and directly communicating with users are deployed for various communication contexts. Indeed, the rise of machine agency is a notable fundamental change that AI has brought to our experience with communication technology. However, fulfilling autonomy is one of the basic needs for humans, suggesting that the rise of machine agency leads to an essential agency tension among the users; the key sources of such psychological tensions are the loss of agency and privacy. Dr. Kang discusses how users negotiate agency when interacting with AI-based technology, and the impacts of AI vs. human agency on the persuasiveness of the technology and users' privacy management decisions. The presentation will include research findings and implications from recently completed studies in IoT and algorithm-based social media (i.e., TikTok) contexts using both quantitative and qualitative approaches.
Hyunjin Kang (PhD, Penn State University) is an Assistant Professor in the Wee Kim Wee School of Communication and Information at Nanyang Technological University (NTU) in Singapore. Her research focuses on the psychological effects of interactive communication technologies on communication processes and user behaviors. Her work has been published in many communication and HCI journals, including New Media and Society, Media Psychology, International Journal of Human-Computer Studies, and Computers in Human Behaviors. She is a recipient (PI) of Meta (Facebook) Research award. Her research project on social media users' expectations and experiences with digital privacy will be funded by Meta Research.
---
Tuesday, April 5, 2022 – Dr. John Crowley

University of Delaware
237 Pearson Hall
Newark, DE 19716
---
My research, teaching, and service focus on understanding how to help individuals, especially those within marginalized or historically underrepresented communities build resilience to cope with the stress associated with difficult and discriminatory life experiences. My research has focused on disclosure, forgiveness, and social support. Examination of the reciprocal relationships between interpersonal communication and biology, however, is the foundation of all of my work. I am a member of a small cohort of communication scholars working to pioneer the study of the physiology of interpersonal communication, particularly in the use of biosocial models to understand the effects of coping for recipients of hurtful and discriminatory communication (both covert and overt), and am actively training graduate students in the use of these methods.
My work has appeared in flagship communication journals (e.g., Human Communication Research, Communication Monographs) and in top journals specializing in health (e.g., Health Communication) and relationships (e.g., Personal Relationships). I am also the 2020 recipient of the Early Career Award from the interpersonal communication division of the National Communication Association.
Our current research projects are funded by both the Villanova University's Waterhouse Family Institute for the Study of Communication and Society (WFI) and the National Institute on Aging (NIA) from the National Institute of Health (NIH). Lastly, I am the proud recipient of the Center for the Study of Diversity at the University of Delaware's 2020 Faculty Diversity Fellowship grant.
Check out this website - www.johnpatrickcrowleyphd.com - for updates on current research and for access to my CV.
Thursday, March 3, 2022 – Dr. Charisse L'Pree

12:30pm
The Cycle of Human Psychology and Communication Technologies
The relationship between communication technologies – or the tools that we use to communicate – and our psychology is inseparable. We come to understand ourselves through the way we communicate. Although these conversations are commonplace with respect to older communication technologies (e.g., written language, printing press), it is often dismissed when discussing more modern technologies, like consumer-market cameras, cable television, and video gaming. This talk will focus on how these technologies have fostered novel ways of communicating, interpersonally and intrapersonal, to better understand – and possible predict – the future of communication and human psychology.
---
Associate Professor of  Syracuse University.

Charisse L'Pree Corsbie-Massay is an Associate Professor of Communications at the S.I. Newhouse School of Public Communications at Syracuse University. She holds BS degrees in Brain and Cognitive Science and Comparative Media Studies from the Massachusetts Institute of Technology, an MA degree from the School of Cinematic Arts and a PhD in Social Psychology from University of Southern California. Charisse investigates how users think about themselves and others via media. Her work includes articles in Psychological Inquiry and AIDS and Behavior, as well as book chapters addressing serious games, race and gender methodology, and media use among marginalized populations. Her most recent book, Twentieth Century Media and the American Psyche (Routledge, 2021), describes how our relationships with media emulate interpersonal relationships through their ability to replicate intimacy, regularity, and reciprocity. At Syracuse University, she teaches classes on communication and diversity to professional media students, specifically how do media affect our understanding of different social categories and how do the social categories of media producers affect the media with which we all engage. Charisse was also awarded Teacher of the Year from the graduating class of 2017. Her upcoming book, Diversity and Satire: Laughing at Processes of Marginalization, is currently in press with Wiley.
Tuesday, December 7, 2021 – Dr. Stephen Stifano

12:30pm-1:45pm
Multimedia Stimulus Design: Thinking Methodologically and Creatively 
Researchers often create multimedia stimuli to examine the behavior of individuals - but the quality, realism, and context of these stimuli can sometimes be lacking.  As a consequence, results hinging on a poor stimulus can lead researchers to make flawed conclusions with little real-world relevance.  In this talk, Dr. Stephen Stifano (Associate Professor in-Residence, Communication) will discuss important considerations when designing multimedia stimuli from both methodological and design perspectives.  Using examples from numerous stimuli he has created for a range of researchers, Dr. Stifano will discuss his process and priorities when designing a multimedia stimulus, and provide some tips for researchers to strengthen the stimuli they use in their own experiments.
---
Associate Professor in-Residence and Director of Undergraduate Studies
UConn Department of Communication
Steve Stifano is an Associate Professor in-Residence at the University of Connecticut. He is an academic with a quantitative research background who also works as a designer, event producer, and independent filmmaker. His research considers the role of emotion in the creation and consumption of narrative media. Recently, he has been examining how emotional education can be used to improve the narratives of texting-and-driving and safer sex public service announcements. In addition, Dr. Stifano provides training for the department's teaching assistants, lectures for and coordinates the introductory communication course, and has led the effort to revive digital media production courses in the department. For more information, see http://stephenstifano.com/.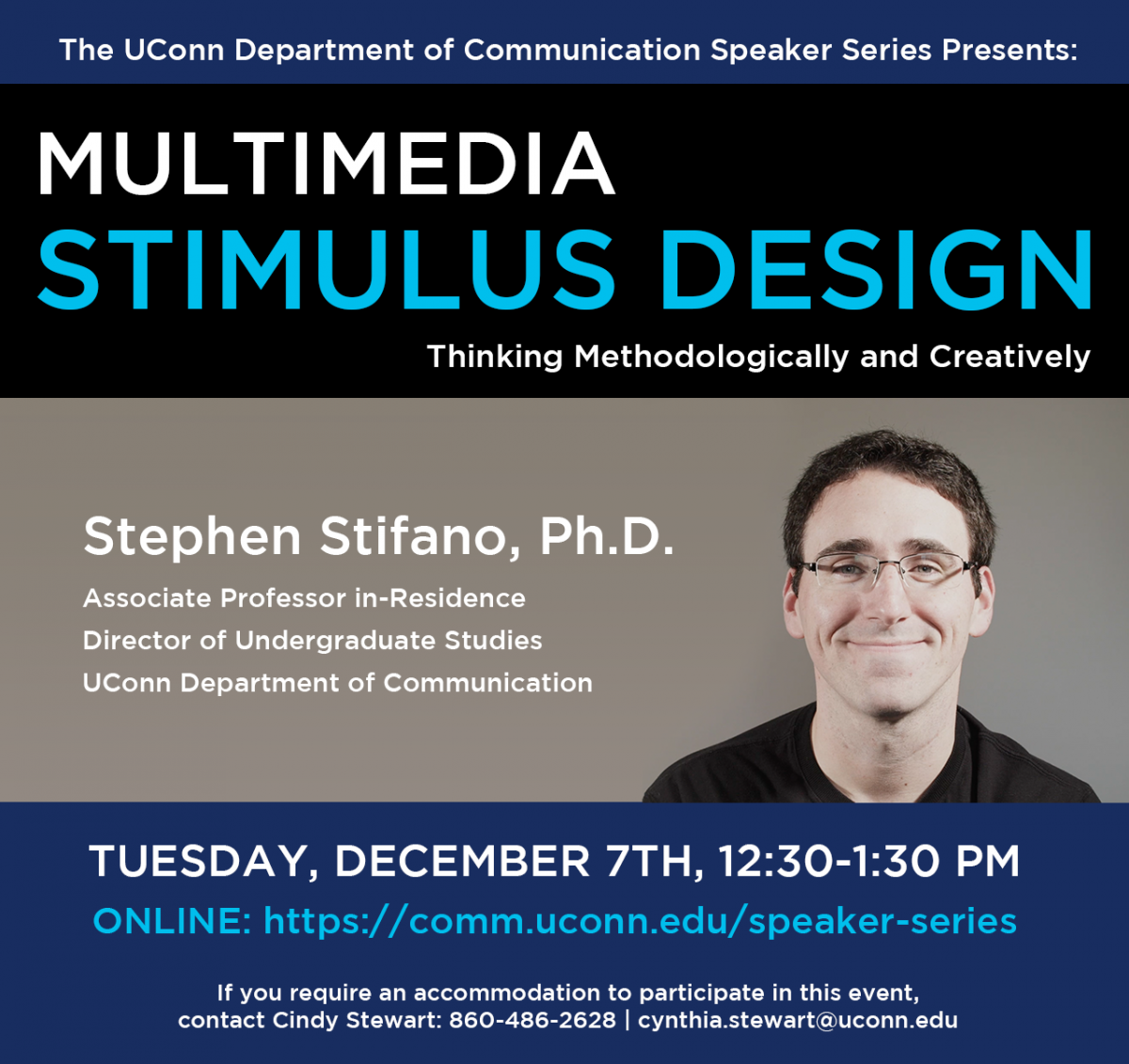 Thursday, November 4, 2021 – Dr. Bernadette Gailliard

12:30-1:30pm
Follow Your Heart: Translating Organizational Communication Research into DEI Practice.
There continue to be calls for communication researchers to translate their scholarship into practice, yet there are few spaces that discuss the pathways available to scholars seeking to do this with their work. This talk will discuss insights and lessons learned as Dr. Gailliard navigates her career path from researcher to university administrator and entrepreneur. It will highlight critical decision points as well as potential opportunities for faculty and graduate students alike to blend academic pursuits with public practice.
---
Senior Program Administrator for Rutgers University's Faculty Excellence Program
Associate Faculty Member of the Department of Communication
Bernadette M. Gailliard, PhD is a scholar and research consultant whose work examines the experiences of underrepresented groups within organizations, focusing on identity issues and career socialization. Her current work examines the experiences of faculty of color in higher education. Dr. Gailliard uses this scholarship to inform her role as Director of Racial Equity and Early Career Support at Rutgers University where she has five years of experience developing and delivering professional development and evidence-based diversity trainings for professionals both inside and outside of the academy.
As a consultant, Dr. Gailliard designs and leads high-level research projects to assess program and organizational impact across diverse constituencies. She also supports organizational leaders with the development and implementation of diversity, equity, and inclusion initiatives. This work both informs and is informed by her research and teaching in Intercultural Communication and Organizational Communication at Rutgers School of Communication and Information.
Dr. Gailliard holds both Doctorate and Masters degrees in Organizational Communication from the University of California Santa Barbara and a Bachelor of Science in Business Administration from American University. Her published research can be found in Management Communication Quarterly, Annals of the International Communication Association (formerly Communication Yearbook), and Human Relations.
Thursday, April 8, 2021 – COMM COVID-19 Panel – recording available
Questions from quarantine and lessons in lockdown: Examining the COVID-19 pandemic from a communication perspective
The panel will feature three projects that received funding from InCHIP last spring.  Please join us for the following:
My president, but not my governor: Understanding perceptions of blame during the COVID-19 outbreak in Connecticut
Christine Gilbert, Kenneth Lachlan, and Stephen Stifano
Presented by: Christine Gilbert
Exploring the effects of social isolation, relational quality, and communication on couples' relational and physical health during the COVID-19 pandemic
Amanda Denes, Talea Cornelius, Katrina Webber, Chelsea Guest, Julia A. Ellis, and Amy A. Gorin
Presented by: Chelsea Guest
Unmasking racial disparities amidst dual pandemics: Examining social identity threat and emotion within the health belief model to understand mask-wearing intentions among Black, Latinx, and Asian individuals in the U.S.
Katrina Webber, Sara Stifano, Stephen Stifano, and Shardé Davis
Presented by: Katrina Webber
Tuesday, March 23, 2021 – Dr. Meryl Alper – recording available
Critical Media Access Studies: Examining the Benefits and Limits of Accessibility in Mediated Spaces
Dr. Meryl Alper
Assistant Professor, Department of Communication Studies, Northeastern University
The benefits of "accessible" media and technology for people with disabilities are rarely questioned, nor considered within broader critical/cultural frameworks. In this talk, based on an article recently published in the International Journal of Communication, I make a contribution to the field of communication by proposing critical media access studies to further define a growing area of inquiry into contested notions of mediated access, drawing on work from disability media studies and critical access studies in architectural design. My proposal for critical media access studies is furthered through a case study of physical spaces designed for media engagement for young people (e.g., gaming arcades, movie theaters) that provide "autism-friendly" programming. Qualitative analysis of interviews and observations with autistic children and their families, as well as participant observation in such sites, reveals ideological assumptions, frictions, and contradictions underpinning cultural accessibility. Critical media access studies can offer communication scholars valuable theoretical and conceptual tools for deconstructing power, visibility, and marginality in mediated space.
---
Meryl Alper is an Assistant Professor of Communication Studies at Northeastern University, where she researches the social and cultural implications of communication technologies, with a focus on disability and digital media, children and families' technology use, and mobile communication. Dr. Alper is the author of Digital Youth with Disabilities (MIT Press, 2014) and Giving Voice: Mobile Communication, Disability, and Inequality (MIT Press, 2017), which was awarded a 2018 PROSE Award Honorable Mention from the Association of American Publishers and the 2018 Outstanding Publication in the Sociology of Disability Award from the American Sociological Association. In her research and teaching, Dr. Alper draws on over 15 years of professional experience in educational children's media as a researcher, strategist, and consultant with Sesame Workshop, PBS KIDS, Nickelodeon, and Disney. Prior to joining the faculty at Northeastern, Dr. Alper earned her doctoral and master's degrees from the Annenberg School for Communication and Journalism at the University of Southern California. She also holds a bachelor's degree in Communication Studies and History from Northwestern University, as well as a certificate in Early Childhood Education from UCLA.
Tuesday, March 16, 2021 – Dr. Stacie Powers
12:30-1:45 p.m.
It's All Connected: Using Your PhD in the Field of Program Evaluation
Dr. Stacie Powers, REVA Group
A solid background in research methods can take you places you never imagined. In this talk I will describe the field of program evaluation, how I stumbled into it (and how you can be more strategic!), and some of the surprising and rewarding connections between what I do now and what I did in my time at UConn.
---
Stacie R. Powers, PhD, is the founder and CEO of REVA Group, an independent firm specializing in program evaluation. She has worked in this field since 2013, primarily with clients in education, healthcare, and the arts. She has led evaluations for Cleveland Play House, Women's Sports Foundation, Girls Inc. of New York City, Atlantic Philanthropies, Up2Us Sports, and Fairfield County's Community Foundation, among many others.
Stacie received a PhD in Communication from the University of Connecticut in 2009. Prior to becoming an evaluator, she held a variety of other research-related roles for over 20 years—from reference librarian to university writing coach to assistant professor—each offering a valuable perspective on teaching others how to address complex, real-world data challenges. Through these varied experiences, Stacie developed an approach to communicating about research that is both evidence-based and human-centered. She regularly presents at the American Evaluation Association conference and is frequently invited to speak about evaluation to professionals supporting the nonprofit sector.
Thursday, November 12, 2020 – Dr. Rebecca Acabchuk
12:30-1:45 p.m.
Mindfulness and Well-being: Connecting Research to Practice
Dr. Rebecca Acabchuk, University of Connecticut
Post-Doctoral Research Associate
Institute for Collaboration on Health, Intervention, and Policy and the Department of Psychological Studies
Mindfulness-based programs have gained in popularity in recent years, but how do we translate this research into tools to improve our own wellbeing?  This presentation will review the neuroscience of meditation, as well as engage participants in an experiential journey to contemplate key concepts of mindfulness-based practices, including embodiment, self-compassion, and connection.
---
Dr. Rebecca (Becky) Acabchuk has a PhD in Physiology and Neurobiology from the University of Connecticut. She currently works as a Post-Doctoral Research Associate at UConn, where she holds a joint appointment in the Institute for Collaboration on Health, Intervention, and Policy (InCHIP) and the Department of Psychological Sciences. Her research focuses on evaluating the mental and physical health benefits of mindfulness-based programs, using advanced methods of evidence synthesis, as well as developing implementation strategies to bring evidence-based mindfulness programs into the community. She recently completed a randomized trial of 140 students at UConn comparing mindfulness tools to assist people in developing a meditation practice to self-manage stress. As a member of the SHARP Lab in InCHIP, Rebecca is part of a large multi-site NIH-sponsored initiative, The Science of Behavior Change (SOBC), which aims to better understand what helps people make healthy behavior changes, and actually stick to them. Rebecca runs mindfulness workshops locally and internationally, tailored for a wide variety of audiences, and she has been teaching meditation, yoga, and other wellness classes in the private sector for over 15 years. At UConn, she has led mindfulness workshops for teachers, students, athletes, the Recovery House, First Year Programs, Student Support Services, and others. As an adjunct Professor, she has taught multiple courses at Connecticut College and UConn, including the "Neuroscience of Meditation" and "Health Psychology". Rebecca is also an Editorial Associate for Social Science & Medicine and Psychological Bulletin. She is a research consultant for the Mindfulness Director Initiative and the Brain Safety Alliance.
Tuesday, October 13, 2020 – Dr. Sorin Adam Matei
12:30-1:45 p.m.
The "1% effect:" adhocractic rule and content quality in online production systems
Dr. Sorin Adam Matei, Purdue University
Professor, Brian Lamb School of Communication
Associate Dean of Research and Graduate Education, College of Liberal Arts
The top 1% contributors to Wikipedia, ranked by size of collaborative effort, are responsible for more than 2/3rds of the content produced on the site. Many other social media projects are also dominated by a relatively small number of voices. Yet, the deeper meaning, the mechanisms, and the effects of the observed unevenness are still under debate. The presentation proposes a "structural differentiation" perspective to understand online collaborative production of content. Uneven contributions are seen as the result of an evolutionary process, which generate new types of social structures. I use entropy and "elite stickiness" analysis of Wikipedia and Stack Overflow (a popular Question and Answer site) to detect discrete phases in the evolution of the two projects.  A "steady state," signaling that structural differentiation has stabilized, is found in both spaces. This final state, is however, dynamic. I call it "adhocracy," to recognize that leadership is achieved, not ascribed, and roles are temporary and mission-driven. More important, structuration and stickiness of elites interact and have a tangible impact on content quality. The presentation summarizes some of the findings of the Structural differentiation in social media: Adhocracy, entropy, and the 1% effect  volume, published by Springer Nature.
---
Sorin Adam Matei, Associate Dean of Research and Graduate Education, College of Liberal Arts and Professor of Communication, Brian Lamb School of Communication, studies online social structures and the interaction between technology and online groups. He is the founder of the NSF funded project Kredible.net and has initiated and founded several forward-looking interdisciplinary teams at Purdue University that connect humanities, social sciences, and computer science. He is also the leader of the Global Perspectives on Internet Communication program in Paris, France organized with experts from the French National Assembly, Conseil supérieur de l'audiovisuel (FCC-equivalent), and The French Laboratory of Excellence for the Study of Media and Creative Industries .  His most recent publications include the volumes Data factories,Transparency in Social Media, Ethical Reasoning in Big Data and Structural differentiation in social media: Adhocracy, entropy, and the 1% effect.
Website: http://matei.org/ithink/
Link to slideshow: https://drive.google.com/file/d/1_i2WnrrYmvTtTxQObWxxo9AZYA4mU1Ac/view?usp=sharing