2021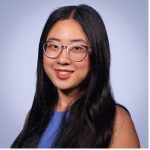 How U.S. Nonprofit Executives Engage Publics on Twitter
Institute for Public Relations - September 28, 2021
Dr. Cen April Yue posted a blog on IPR Organizational Research Communication Center to discuss Leadership Going Social: How U.S. Nonprofit Executives Engage Publics on Twitter. Over the past few years, large and mid-sized nonprofits have rapidly adopted social media to communicate with internal and external constituents. Social media proves to be a cost-effective resource for nonprofits, playing a pivotal role in accumulating social capital, enhancing nonprofit visibility, and strengthening stakeholder engagement. Read more >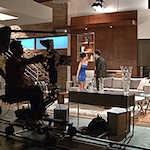 Do Telenovelas Win Emmy Awards?
Showbiz Cheat Sheet -  September 17, 2021
Dr. Diana Rios was quoted in a story by Showbiz Cheat Sheet about why telenovelas are so popular. Dr. Rios is an associate professor with a joint appointment with the Department of Communication and El Instituto, the Institute of Latina/o, Caribbean, and Latin American Studies. Read more >
UConn Today - April 15, 2021
As a graduate of a small liberal arts college, Rory McGloin '11 Ph.D. became a professor at UConn with a mission to give students the type of out-of-classroom, meaningful experiences he'd had as an undergraduate. "There was a need to bring the students together to give them an out-of-class experience that they could put to use in the real world," says the associate professor of communication. Read more >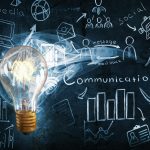 Testing the Success of Their Communication Class, Scientists are Surprised
UConn Today - March 4, 2021
It takes plenty of practice to become a skilled science communicator—and "skilled communication" is more subjective than researchers have assumed, a team of researchers found out when they tried measuring the success of their own graduate science communication course. Despite the fact that most of us learn to talk around age three, effectively conveying information to another person so they act on it can be a lifelong challenge. George Bernard Shaw memorably said the single biggest problem in communication is the illusion that it has taken place. The playwright had a point. Read more >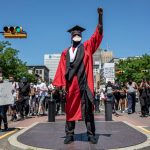 How Black Lives Matter Came to the Academy
The New Yorker - January 30, 2021
On a Saturday night in early June, Shardé Davis, an assistant professor in the Department of Communication at the University of Connecticut, was sitting on a couch in a rented apartment in San Diego, scrolling through her Twitter feed. She was in California to do research on a project that was funded by a Ford Foundation postdoctoral fellowship—plans that had been affected somewhat by covid-19 and the widespread protests for racial justice. Davis herself had gone to a Black Lives Matter protest in La Mesa the previous weekend. The event had started out peacefully but turned ugly when California Highway Patrol officers squared off with thousands of protesters on the I-8 freeway. There were reports of bottles thrown, tear gas unleashed, arson, and looting. Read more >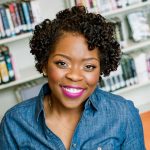 Brave Space: Shardé Davis and Mason Holland
UConn Today - January 18, 2021
In the latest installment of the Brave Space podcast series, Julie Bartucca spoke with Shardé Davis, assistant professor of communication, one of the three faculty coordinators for the course, and Mason Holland '23 (CLAS), president of the UConn chapter of the NAACP, about what the course means for UConn and what else the University needs to do to address the issue of anti-Black racism. More >
Television Review: A New Wave of Vibrant Science Programs
Undark.org - January 8, 2021
When WMAR, Baltimore's first television station, began broadcasting in 1947, a local public relations official saw an opportunity. Lynn Poole had recently been named the first director of public relations at Johns Hopkins University, and he was looking for ways to promote the institution's cutting-edge research. So when word got out that WMAR was looking for programming, he made his pitch: a weekly live show, starring actual scientists, that explored the scientific issues of the day.
"The Johns Hopkins Science Review" premiered in March 1948, with Poole at the helm. Each live episode explored a single topic — from X-rays to human spaceflight — and featured working scientists conducting demonstrations. The award-winning show had a shoestring budget, forcing its staff to innovate, fashioning props out of plywood or paper. They used popcorn to stand in for molecules, puffed cereal to simulate electrons, and an array of mousetraps to illustrate a nuclear chain reaction. Read more >