The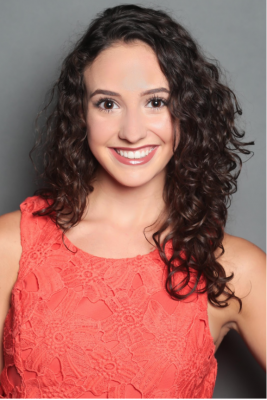 Department of Communication's undergraduate program is filled with students that continuously exceed the expectations. With extracurricular activities, internships, and commitments to the COMM Department, we're proud to recognize the accomplishments of our students. As the President of the Comm Society, Grace Gagnon is one of the Department's most active students.
Grace Gagnon is a junior double majoring in Communication and Journalism at the University. She stated that choosing to become a COMM major was obvious to her because she knew it would allow her to learn about the areas of research that interested her. With her love for public speaking she set out to fine tune her skills.
Grace has a very important role within Comm Society, which is a group that gives students a variety of opportunities to observe and investigate the fields of advertising, marketing, public relations, broadcast, and media. While collaborating with other students that are committed to furthering their education in the field of communication, they have worked closely with communication professionals. Grace is also a reporter and block anchor for UCTV, which is UConn's student run television broadcast. She has been incredibly involved in the University's organizations to expand upon her communications and journalism skills.
Outside of University organizations, Grace is heavily involved in communication and journalism organizations elsewhere. She previously interned for the COMMS department at United Technologies in Farmington, where she began to get her foot in the door of the professional world. Furthering her passion for journalism, she writes a weekly column for her local newspaper, The Bristol Observer.
She attributes a lot of her knowledge and passion for her career to UConn's Professor Rory McGloin. Grace states that he, "is a great advisor and mentor for everyone on Comm Society. He has taught me how to be an effective leader, and always offers me great advice."
It's clear that Grace is one of the department's most involved students. With her passion and hard work, she inspires her fellow classmates every day through her commitment to the field of communication. We applaud and appreciate her devotion to continually expanding her knowledge and experiences.