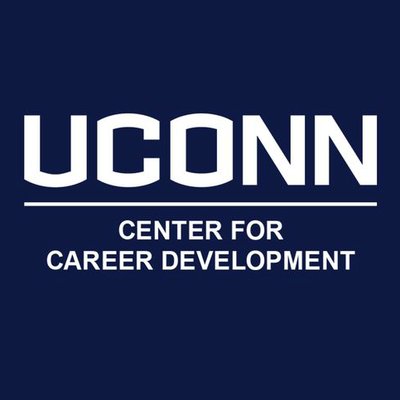 By: Amanda D'Arbanville
What Does it mean to be a Career intern at the Center for Career Development (CCD) at UConn?
I have been working this on-campus paid internship since my sophomore year at UConn. My work consists of critiquing undergraduate resumes, leading presentations on campus, and assisting various departments with campus-wide projects. I have learned countless lessons in this role to help other students, and to use for my own professional development.
Here are some of the top lessons I have taken away from this internship so far.  
Use the resources the Center for Career Development (CCD) has to offer: When I applied to the CCD as a Career Intern during my freshman year, it was the first time I had ever even seen the office. Through the application and interview process, I learned about all of the great programs and services the Center for Career Development offers to UConn students. I was able to sign up for multiple individualized resume critiques, complete a practice interview, and meet with a Career Coach for multiple career coaching sessions over the course of a few weeks. These small steps helped me to make huge progress in my career development, and lead me to many more opportunities.
Pay attention to the events happening on campus: Being a part of one of the biggest universities in the Northeast, many employers and recruiters visit UConn in any given week. Working at the CCD, I learned to attend more info sessions, on-campus interviews, and career fairs where I was able to form a personal relationship with recruiters at target companies and make it further through recruiting processes. I like to check Husky Career Link Powered By Handshake once a week to check, staying up to date on any upcoming campus events.
Create a Personal Brand and Learn how to Present it (For Interviewing and Networking): As part of my role as a career intern, I have worked as a member of the Practice Interview Team. In this role, I guide one-on-one practice interviews with students and help them brand themselves to employers and recruiters. Learning and perfecting my response to questions like "Tell Me About Yourself" and my "Elevator Pitch" has allowed me to professionally articulate my abilities and skills.
If you are interested in scheduling a practice interview or a career coaching appointment to work on these introductions,click here.
Your resume is not a single-use document, it is your first impression:  A well-designed resume is your first "handshake" with the employer – be sure to devote a lot of time to it! Before I was trained in resume writing, I had no idea how important employers and recruiters valued a clean, consistent, and content-filled resume. Since my internship at the CCD, I have worked tirelessly to continuously update and build my resume, which makes me more competitive for job and networking opportunities.
If you are interested in a 20-minute individualized resume critique at the CCD, click here.
How to be professional in an office environment: Working as a Career Intern at the CCD was my first experience in a professional office. Being that my role consists of interacting with supervisors, coworkers, and countless peers, it was essential for me to learn how to communicate professionally. I have learned to adapt my communication style at work and around campus to ensure I represent my personal and professional brand appropriately at all times.
Public Speaking Skills: As a Career Intern, I present to student groups, organizations, and classes on career-related topics. Public speaking is by far one of the most valuable skills I have gained in this role, and as a student seeking to pursue a business career, I know that this is something I will use over the course of the rest of my career.  
Overall, working as a Career Intern has been an amazing experience that has opened me up to many professional skills and opportunities. By committing myself to this position and devoting myself to my role as an intern, I have received amazing help and guidance with my career over the years. It has been one of my best decisions in college to take on this opportunity.
Are you interested in working at the CCD? Follow this link to apply!