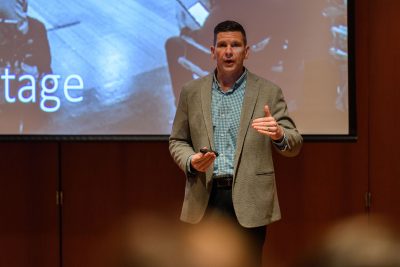 To continue the tradition of metanoia, the UConn Community declared Wednesday, November 8th as a day of "reflection, learning, sharing, and transformation focused on confronting racism in our university, our state, and our nation". Recent events such as Charlottesville have brought to light the racism, anti-semitism, islamophobia, nativism, and colonialism that still exists in America. As the University recognizes this, the Department of Communication would like to contribute insight on the role of communication in battling racism.
Communication Professor Shardé Davis explains the importance of this day of metanoia as an open space where people can talk and learn about the topic at hand. Susan Herbst stated that, "racism is not a problem to be solved, but a fundamental part of our history and contemporary society for which we must take responsibility". Professor Davis exclaimed that it becomes problematic when people deem our society as a post-racial society, and act as if racism doesn't exist. The Metanoia events gave many opportunities to students, faculty and staff to call attention to an issue in order to agree upon its existence.
Professors Rory McGloin and John Christensen held a seminar to discuss racial stereotypes in sitcoms. The seminar created an open discussion about the way that minorities are portrayed in media and the effects of the stereotypes that are present. Media makes up a large portion of the field of communication. This seminar allowed for students, faculty members, and community members to call to action the need for change in the industry and ways that change could occur.
There are many different ways to communicate about racism, but below are a few examples that Professor Davis suggested as the campus combats racism even after the designated day of metanoia.
Thinking before you speak- Often times when people use racial microaggressions or stereotypes, it's because they don't fully think about their words before they say them. In order to prevent this from happening, evaluate what you're going to say before you say it.
Active Listening- When talking about issues such as racism, many people are so set on their own views that they speak more than they listen. Active listening is important because it allows people to understand other perspectives and it opens up opportunity for people to learn more about the subject.
Be open to learning- If people are open to learning, they also open themselves up to change. If people take it upon themselves to learn about  racism by searching for sources to learn more about it, such as on campus cultural centers, they open themselves up to opportunities to grow and educate themselves and others on ways to combat racism.
The Department of Communication embraces diversity, and its members constantly devote themselves to combating prejudice. The day of metanoia was a fantastic opportunity for people to come together and speak about such an important topic, but we encourage you to battle racism every day of the year.