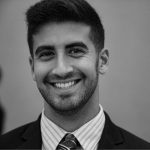 The UConn Department of Communication is always excited to hear about our alumni, so when we received a press release from Left of Center announcing Jake Rudolph's (CLAS '19) new role there, we had to share! Jake graduated cum laude in December 2019, having double-majored in Communication and Political Science. Her earned the Communication Researcher distinction in May 2019. Now he's taking on the role of Website Content Manager and Researcher at Left of Center, a woman-run, grassroots super PAC working to elect Democrats in strategic U.S. House races across the country.
From the press release:
~~~~~~~~~~~~~~~~~~~~~~~~
Rudolph is part of a team responsible for analyzing and collecting data to inform Left of Center's organizing and communications work. Additionally, he will be curating and organizing website content.
"Jake Rudoph is an outstanding addition to our team," said Co-founder Deb Kozikowski. "His training in politics and communications, coupled with his digital and organizational know-how make him a perfect fit. He's doing great work for Left of Center." Rudolph's work will help Left of Center's initiatives in swing-state races. "I'm excited to manage the website while also providing research to inform important decisions," Rudolph said.
~~~~~~~~~~~~~~~~~~~~~~~~
Congratulations, Jake, and we look forward to following your career!