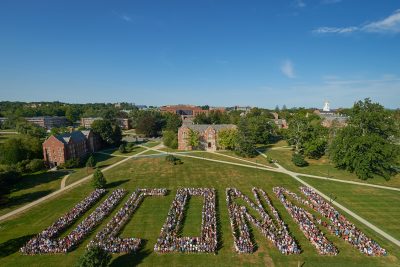 By: Elizabeth Collins
Political Science & Linguistics/Psychology, 2022
As a UConn first-year, it's interesting to watch my friends who are high school seniors endeavor through the college application process. It's allowed me to reflect on my personal experience with the procedure which, despite the fact that it was in the fall of 2017, still feels like a week ago. Despite the ups and downs that came with the transition to college, I haven't had a single regret about choosing Storrs as my home for the next four years.
Since I've been a Connecticut resident my whole life, I've grown up right with UConn. I look back fondly on when I fawned over the women's basketball team in third grade; I remember signing up for ECE courses every year of high school; and, I think about all of the news I've consumed about the school and all of the informal campus tours I've taken because my father is an alumnus.
Naturally, when it came time to choose universities to which I'd apply, picking UConn was a no-brainer; it felt like a rite of passage as a Connecticut high school senior. However, having grown up in a wealthy, academically competitive town, I faced internal stigma throughout the entire process of applying, extending even to summer orientation. While the bulk of my classmates were attending private universities and Ivy League schools, I felt anything but special being a part of UConn's class of 2022. The notions of UConn as 'high school 2.0' because of the many neighbors who studied there and it being considered a 'last resort' school stuck with me throughout the entirety of my senior year and up until the first day of classes. I felt defeated, even before my first graded assignment.
With one semester almost under my belt, I can definitively say that none of my worries or hypotheticals came to fruition. Instead of falling asleep because of boring lectures, I've been taking riveting and challenging classes with intelligent and complex professors. Rather than feeling alone and disappointed, I've attended the fall involvement fair and signed up for the women's rugby team and clubs like PIRG, all of which I look forward to every single day. In place of hating and not engaging with my new school, I've cheered on teams in Gampel, attended several Late Night events, painted the Spirit Rock, toured the Benton, eaten at the Dairy Bar, pulled late nights in Babbidge, and even petted Jonathan XIV. With each new activity I try and every new place I discover, I fall in love with UConn even more– and realize how wrong the negative little voice in my head was.
With the plethora of resources on campus, I've been able to see how exceptional a UConn education is and where it can take me after I graduate. Every day, I'm reminded of how I made the right choice in choosing to attend UConn. With all of the newfound pride in my school and state, it's difficult to not want to spread all of the joy I've found in my college experience. At the end of the day, I've come to realize that the stigma surrounding attending UConn as a CT resident or attending a public university in general is useless; it was just a mental product of my upbringing in a seemingly perfect town. With all the negativity aside, I've been able to open my eyes and discover how rewarding it is to live in Storrs and attend a university with a beautiful campus and a perfect level of academic rigor.
Even when looking at my friends who attend Harvard, Columbia, Johns Hopkins, or Northeastern, I have no regrets choosing UConn above all of the schools I was accepted into. During the year-long process of applying and enrolling into a college, if anything, I've learned that your college experience isn't what someone else wants it to be or tells you it has to be; your time is truly what you make of it, no matter where you are. You'll look back and remember all of the friends you made, the traditions you took part in, and the stress you experienced that was ultimately worth it; and you'll realize that what will matter are the memories, not how expensive your tuition was.