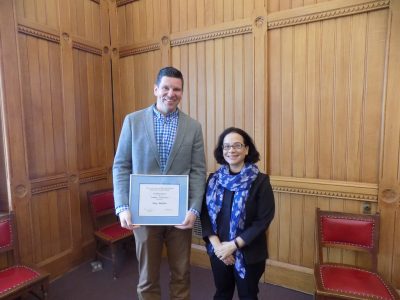 After years of hard work and dedication to his students, Communications Professor Rory McGloin was awarded the American Association of University Professor's (AAUP) Excellence Award for Teaching in Early Career. He currently teaches Principles of Public Speaking (COMM 1100) and is conducting research involving media effects related to video game usage. Professor McGloin has been a part of the UConn Department of Communication for ten years, first as a graduate student and later becoming an Assistant Professor. His devotion to his courses can be seen inside and outside of the classroom.
McGloin stated, "I want to find ways to sustain my passion and desires over a long time. I do a lot of self evaluations, and that's what drives me to want to get better every single day. You can never settle for what you did yesterday, you have to get better at it the next day." Professor McGloin is constantly searching for ways to improve upon his interactions as a professor, researcher, adviser, and human. His passion for teaching has spilled over into his role as an adviser for the Communication Society. The Communication Society is a club that is dedicated to helping undergraduate students explore the professional fields of communication. McGloin claims that his work with the Comm Society is one of the things he is most proud of. Watching students that are so committed to their careers is something he has a lot of passion for because it's not about points or grades, it's about students who genuinely want to learn and better themselves. Undergraduate student and president of the Communication Society, Grace Gagnon, stated, "I met Rory my freshman year through Comm Society and ever since then he has been one of the most influential professors I've ever come across. He saw potential in me and gave me the tools to turn that potential into a leadership position. What sets Rory apart from other professors is his pure devotion to his students. Communication classes can be very large and it allows for some students to get lost, but Rory never lets that happen. It is obvious that Rory genuinely cares about each student's learning experience. He is the most deserving person for this award!"
As a person who strives for personal growth, Professor McGloin feels it's important to teach students in a way that, by the end of each class, they'll have learned something that they can apply to their life that day. He strives to assure that students aren't just walking away from his class with a grade, he wants them to walk away with an experience that has shaped their lives and educated them. McGloin has found that the most rewarding part about being a professor has been "The moments where you see students learning things about themselves". It's clear that his passion for going above and beyond what's expected of him is carried out into his teaching.
The Department of Communication is lucky to have a professor as devoted as Professor McGloin, and are thankful for his attributes that earned him this award. We look forward to seeing him and his students grow in the future.