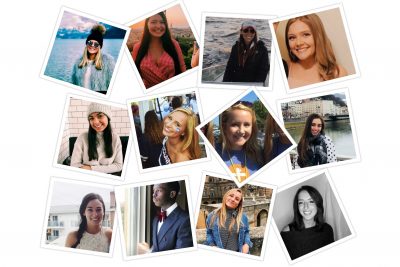 Finals week is stressful. As the dreaded week before winter break rolls around, I'm sure everyone is asking themselves the same question, "what should I be doing to prepare?'
Instead of Googling "Tips for Finals Week," I decided to go old school this year and ask students on campus what they actually find helpful for them before or during finals week.  Here are some of their favorite stress relievers and go-to study tips:
STRESS RELIEF
"Meditation definitely helps me. I have this app called Aura and it's amazing for stress and anxiety." – Sidney Rochlin '19 (CLAS)
"It always helps me to talk things out to someone else." – Ellie Grafstein '19 (BUS)
"If I have a chance to, Yoga really helps me clear my head." – Katie Grigely '20 (ED)
"Don't pull all-nighters, get sleep!!!" – Julianna Vinciguerra '19 (NUR)
"I actually clean my apartment as my stress reliever." – Kelly Pagoto '19 (BUS)
"Sometimes I just say to myself 'I'm doing nothing and I deserve it'…that usually ends up with me watching Netflix and a face mask!" – Joni Cotter '19 (CLAS)
"My go-to is cooking or baking. Then I binge eat most of it…" – Amanda D'arbanville '19 (BUS)
STUDY TIPS
"Hand writing a study guide with the most important things. Handwriting is really helpful with memorization." – Nicole Williams '19 (BUS)
"I really try to start studying at least a week before and devote around 30 minutes to an hour every day for that one exam until the actual test day." – Kwaku Gyasi '19 (CLAS)
"Quizlet's test mode is really good for studying! They make it so simple." – Liz Gallucci '19 (BUS)
"I plan out step-by-step what I need to do for the week on my calendar to make sure I stay organized." – Marisa Nazzaro '20 (ED)
"Well first I have a good cry…just kidding! But using color coded highlighters is definitely my lifesaver." – Avery Adams '19 (CLAS)
I hope by reading about how other students on your campus use their time to succeed during finals week was helpful—and, at least, comforting, to know you're not the only one, and we're all in this together.  I know I'm definitely am going to try some of their study tips and stress relievers!
While taking advice about this upcoming week it is important to remember, no matter how many articles you read about tips for studying, everyone is different and not everything will work for you. Even though studying is important, taking breaks is important, too. Taking stock of HOW you spend those breaks, might help you make the most of them and get the maximum benefit.
I hope one of these tips from your fellow Huskies will help you get through these exams and onto the holiday break that you so very richly deserve. Good luck to all!