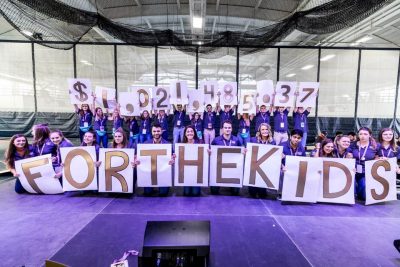 HuskyTHON is an organization that focused on the year-long effort to raise funds and awareness for Connecticut Children's Medical Center. Each February, the fundraising efforts come together for an 18-hour dance marathon. Thousands of UConn students gather to dance for those children that cannot. This year will be UConn's 20th annual event For The Kids.
Nicole Schwartz is on the HuskyTHON Management team as the acting Vice President of Communications. The VP of Communications has various responsibilities, but overall, she manages the public relations for the organization and event year round. From PR campaigns, working with news organizations, writing press releases, to collaborating with the rest of the members on the HuskyTHON management team, Nicole ensures that the brand name and the overall goal to Raise Them Up is known statewide.
As the 18-hour dance marathon approaches, I decided to interview Nicole to gain more insight on the hard work that has gone into the event and amazing cause as a whole:
Q: It seems like you have a lot of different responsibilities, out of those, which do you enjoy the most? Which one do you think works the best in getting the word out about HuskyTHON?
Nicole: Management has been so life-changing…it brings you to so many people on this campus and not just the 27 person team. The morale captions get to interact with numerous people and see all of the good that our community does for this cause. I also love asking people their 'why'; why they dance, why they participate. It means different things to people and I love hearing their answers and am able to participate in the change.
So, two different things work really well. One of the best things about VP Communications is that you get to work with every single person on the management team and everyone has a different responsibility. I think we have really communicated on social media and our website about what it takes and how we all together can make a difference. On a more personal level, I have really enjoyed talking to news organizations and learning how to write a press release. With communicating with the news organizations, I wouldn't have had this opportunity which has pushed me out of my comfort zone, without advocating for HuskyTHON and CCMC. I am also so thankful I have been able to do on air interviews about how passionate I am, and the 3,000 people that participate, are about this organization. What's great about it, is I get to share with the entire state of Connecticut and beyond how much this means to the UConn community.
Q: What has your process been like leading up to HuskyTHON, especially to stay organized?
Nicole: The biggest thing is relying and trusting my teammates because everyone was chosen for this role for a reason. Another organization trick I use is I keep a to-do list where I map out what is pressing for that day or week. I also go through my email consistently. Management has a 24/7 rule where we make sure no email goes unnoticed for 24 hours to ensure nothing gets missed. Especially in my role, I am communicating with a lot of people externally from a media list that has been put together. In these circumstances, Google Docs and Google Sheets are super helpful. I really try to hold my self-accountable for what I need to accomplish.
Q: What made you want to get involved in such a great cause like HuskyTHON?
Nicole: I actually went to the University of Maryland and I participated in their TerpTHON. At that point, I didn't have a choice in participating because my sister's friend went there. After that, I went on to be part of the Executive Board and joined the Advertising Committee, and it truly changed my life for the better. Sophomore year, I transferred here to UConn and I knew what HuskyTHON was. I immediately applied to be a morale caption because I wanted to be all in from the start. In February 2016, I walked out of the Field House for the better. I saw the passion on student's faces and smiles on parents' faces. People say this day is better than Christmas and it could not be more true. The parents get to see the children happy and act/feel like normal kids. It is truly inspiring that a group of college kids make such a great change and impact on the community. I am so thankful for my sister's friend who brought dance marathon into my life.
Q: By making HuskyTHON not just an event but an organization and a year long process, do you think that helps with the PR for the cause?
Nicole: I love that you brought that up. A lot of people believe that it is just and 18-hour dance marathon, and that could not be more false. The person who raises $1 and the person that raises $1000 matter just as much. If the $1 person didn't contribute, then we would be $1 less than what would could've been. We raise $1 at a time, we don't have any sponsors. We are a group of college students coming together to support a cause. We like to say it is an inclusive community where everyone can do good. The kids never stop fighting, so we will never stop fighting. As long as there is childhood illness, we will never stop fighting. We are trying to make a million miracle, $1 and one smile at a time.
Q: What is one thing you have learned from holding this position for this amazing organization?
Nicole: I always say that there is so much good if you look in the right places in the world; the good is right here in the University of Connecticut. People are amazing and it's true when you see them going above and beyond. It comes down to the dancers, and if they aren't as committed as the management, then our cause wouldn't be as successful. Each person matters. My favorite thing is how united people are and how willing they are to push their limits.
Q: What specific PR techniques do you use to promote HuskyTHON? And on what platforms?
Nicole: Basically, last year our goal was to raise 1 million dollars. This year we wanted to let our dancers know that yes, the money is important, but it comes down to the children we are supporting. In order to emphasize that, we created the phrase 'Raise Them Up'. This slogan helps promote the idea that instead of a monetary goal, we are striving to raise up the hospital staff, children, and families. We are raising up the expectations of what is possible while also raising up people's attitudes. It is a major technique that truly shifts away from the monetary aspect to put the most important goal at the forefront of everyone's minds.
Along the lines of different platforms and other specific techniques, we tried a lot of different things this year. We made a video in October that was able to capture all the little moments leading up to HuskyTHON while showing the event as well. This year, we also created balloons with everyone's 'why' on them to create buzz as well as stick to the theme of 'raising them up'. Another thing we did with students' 'why's' was when they share their social media posts about HuskyTHON, we asked them to share their why along with it. It definitely captures people's attention as well as make it more personal. On a smaller note we painted the rock for HuskyTHON, put banners on buses, and put graphics in the dining halls for more awareness.
For more information about HuskyTHON: https://huskython.org/