Last mo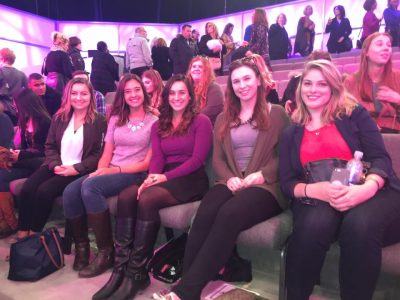 nth, the Communication Society took a trip to New York City to attend a live taping of The Harry Show. Award-winning actor and singer Harry Connick Jr., who is best known for his roles in the films Independence Day, Hope Floats, and P.S. I love you is the host of the show.
Connick Jr. began the show with an interview with actress Lily Collins, promoting her new film Rules Don't Apply where she spoke about her role in the film, as well as what it is like to be the daughter of famous singer Phil Collins.
The next guest was Ta'Rhonda Jones, who plays Porsha in the hit television series Empire. Jones discussed her role on the show and told the audience about her overnight transition from a normal girl working at a nursing home to a celebrity, as her role in Empire was her first professional acting job.
The show ended with an amazing performance by some of the cast of Cirque de Soleil. The audience marveled at the incredible balance and flexibility of the performers.
During the breaks in the show, Harry Connick Jr. sang to, danced with, and invited the audience members to ask him questions.
Following the taping, an employee from NBC spoke to the Communication Society about working in the television industry. She talked about her background in the industry and her incredible internship on The Late Show with David Letterman. The woman explained that her internship experience was extremely helpful in guiding her towards what direction she wanted to go in with her career. She said that although she had almost no free time due to balancing her internship and her classes, she had no regrets because she was so passionate and excited about the work that she was doing. She emphasized that getting real world experience in the television industry through her internship was extremely important in helping her to land a job and become successful after graduation. The woman advised the group about the importance of getting any kind of internship experience during college and insisted that the best interns are those who work hard, want to learn new things, and do not treat any task as too small. She continued by speaking about the other roles that she has had throughout her career, and informed the group about how most young people entering the television industry will not stay in the same position or with the same company for their entire career, and that it is okay to move around and work in different roles. Hearing from someone with a lot of experience in the television industry was both an informational and motivational experience.
Overall, this trip was both a fun and educational one for the members of the Communication Society. Having an inside look and seeing how material from courses at UConn are applied in the television industry was a great learning experience for the group.
By Julie Pyrcz, COMM Society PR Chair
---