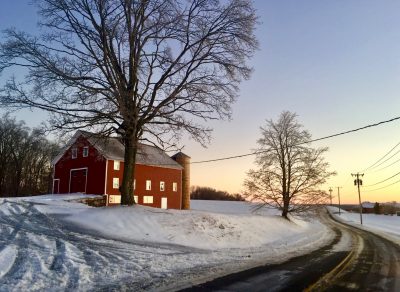 Starting off the New Year is hectic, especially as a college student. After the New Year celebrations wear off, you begin to feel the excitement of starting the new semester and reconnecting with friends. For me, the New Year also ushers in my last semester as a college student. I want my last semester to encompass everything I've always wanted to do but never had the chance. It will be my last opportunity to take full advantage of everything UConn student life has to offer.
Take Part in More Bodywise Classes
Although my first resolution is in fact gym related, which can seem cliché, it is much more specific to the UConn community. I have always taken advantage of the Horsebarn Hill running routes; however, I have not used Bodywise as much as I would have liked. Bodywise is the UConn Rec Center's program of free gym classes, which include spinning, HIIT classes, Yoga, etc. I can count on one hand how many I have taken, but I'd like that to change. Especially because the instructors are students as well, the classes are a perfect way to get a fun and motivating workout!
Use the Center for Career Development (CCD)
Now that I'm in my last semester, I am more acutely aware of how much the Center for Career Development can do for someone like me trying to get their first full-time job. The CCD's resources can help with cover letters and resumes, something that I want to perfect before applying to any positions. Also, I have recently learned that the CCD can connect me to alumni who work in my desired field to provide advice, through a program called the Husky Mentor Network. I'm so glad that I finally realized just how many benefits the CCD has to offer students as they prepare for their post-graduation life.
Attend More Sports Games
UConn is known for its competitive sports atmosphere but, regrettably, I didn't partake in as many of these games as I would have hoped. My first-year-self thought that I would be going to all of the basketball, football, baseball, and hockey games. Well, I let that girl down because I've only been to a handful of each in my time as a UConn student. Every time I've been to one of these sports games, I remember why I love being a Husky: I can feel the energy of the student body coming together. For my last semester, I want to be able to take part in as many UConn chants and nail-biters as I can, before I become an alumnus. Whether it's squeezing in the last couple of basketball games or trying out new sports like lacrosse–whatever I can do to feel more of the Husky Pride.
Sunset at Horsebarn Hill
Although the sunset at Horsebarn Hill has always been on my UConn "bucket list," I can't believe I've gone three years without engaging in this breathtaking activity with my friends. The first, and notably only, time I have seen the sunset on Horsebarn Hill was accidental. I was actually there to visit the horses and cows. The view was stunning. Throughout my years here I heard many people say a small picnic with some friends and blankets is the perfect way to appreciate UConn and the beauty is it has to offer. However, if that doesn't seem like the way to go for you, I know that every so often the Division of Student Affairs, or another group on campus, organizes Yoga on top of Horsebarn Hill during sunset. What a great way to relax and get some stretching in!
Explore Mansfield
The surrounding towns around the UConn campus have a lot of fun activities to offer contrary to what I had originally thought. It has taken me three and a half years to realize the beauty and accessibility of Mansfield Hollow State Park. It is roughly 20 minutes from Gampel, but it is well worth the drive. From fishing, hiking, or just taking in the peaceful water views, Mansfield Hollow State Park is the perfect place to get a breath of fresh air and as a college student, I know that sometimes that is exactly what we need! In addition, Mansfield has a drive-in movie theater with three movies playing at once. I definitely need to go back for another drive-in experience, especially since Mansfield Drive-in is one only a few movie theaters around and is considered one of America's Most Classic Drive-in Movie Theaters.
My New Year's resolutions are all specific to Uconn and the community surrounding us. I remember when it felt like 'forever' before I would graduate; now, alumnus is a mere few months away. Where did the time go? As my time here comes to a close, I want to be able to say I made the most of my last semester, and I took full advantage of all that campus life has to offer. Whether you share some of these resolutions or you have your own, I hope they include finding time to make these last few weeks as a Husky undergrad the most memorable.
---