Since the department's establishment as a standalone unit in 2012, the undergraduate program in Communication has grown and adapted to reflect a rapidly-changing discipline. Communication is one of the largest majors in UConn's College of Liberal Arts and Sciences, enjoying steady growth during the 2010's. The department places a focus on quality instruction, innovative pedagogy, and adaptive goals that reflect the needs of our students.
In 2019, the department conducted a rigorous self-study followed by an external program review. As part of this process, we identified areas where our undergraduate program needed to continue to grow, gaps that should be addressed, and opportunities to work more efficiently. Shortly after the conclusion of this process, we decided the timing was right to deconstruct the program we had created over the years and rebuild its components in a single, cohesive plan that could reflect our educational, organizational, and cultural goals.
Read more about our new curriculum below:
Process
Beginning in November of 2019, we envisioned an 18-month process for the revitalization of our undergraduate curriculum and program. Changes would be introduced in the Fall of 2021, after passing through rigorous faculty vetting and the appropriate university channels. Our goal was to work deliberately, considering each piece of our program as we made changes to ensure that every adjustment was delivered with purpose. In 2020, COVID-19 put an unexpected strain on this process as all participants worked to pivot courses to online instruction. Nevertheless, thanks to the persistence of our faculty and staff and the utility of online collaboration tools, we were able to meet our intended timeline.
Goals
Our curricular redesign was conducted with five primary goals in mind:
1. Ensure we're meeting the learning objectives set forth by the National Communication Association.
A student of Communication should be able to:
Describe the communication discipline and its central questions.
Employ communication theories, perspectives, principles, and concepts.
Engage in communication inquiry.
Create messages appropriate to audience, purpose, and context.
Critically analyze messages
Demonstrate the ability to accomplish communicative goals.
Apply ethical communication principles and practices.
Utilize communication to embrace difference.
Influence public discourse
2. Rebalance the courseload across all four levels of study.
1000-level: Gateway courses to the Communication Major. Introductory courses that can serve outside departments as general education or foundational courses.
2000-level: Core courses in the Communication Discipline. Courses that provide baseline training and skill development in major domains of the field, preparing students for more advanced work.
3000-level: Specialty courses in the Communication Discipline. Courses that build upon knowledge developed at the 2000-level, including deeper dives into specific and nuanced areas of the field.
4000-level: Academic and Professional Student Development. Courses that prepare students for future work in academia or industry. Students will synthesize theory, research, and practice in the creation of high-caliber works. Products from these courses should directly translate to students' academic and professional portfolios.
3. Ensure 'Truth in Advertising' in our Undergraduate Course Catalog.
We updated course names and descriptions to ensure they accurately reflect the modern course content, and eliminated courses that had not been offered recently. We also reworked our course numbering scheme to categorize our offerings into seven different course series, making it clear to students which courses cluster together in various areas of the discipline.
4. Encourage further experiential and application-based learning without losing our theoretical roots.
Modern communication graduates need to be able to reach complex audiences with effective messages, which places a premium on skills such as content development, data analysis, and professional communication. As a social science program, we looked for ways to develop these skills within a framework that values the role of communication theory and research. This approach ensures that our students receive a balanced education that prepares them for both professional careers and graduate-level academic studies.
5. Promote faculty experimentation within a modern curricular framework.
As society changes, so does the communication discipline. By introducing Variable Topics courses in each course series, and working to incentivize innovative course development, we want to empower faculty to regularly experiment with new ideas in the classroom.
Communication Courses
Beyond our required introductory and methodology classes, we restructured our courses into seven major series that reflect the range of the discipline. In virtually all cases, the 2000-level course offering in a series serves as the primary pre-requisite for all successive courses at the 3000 and 4000 levels to simplify enrollments. This structure also identifies five core courses that anchor their respective course series and serve as the foundation to our students' education in the field. Finally, six advanced courses are identified as immersion courses, in which our students engage in practical work in the field prior to graduation.
Introductory Courses

1000: The Process of Communication
1100: Principles of Public Speaking

Methodology Courses

2000Q: Research Methods in Communication
2010Q: Applied Research Methods

100's: Professional Communication

2100: Professional Communication (core)
2110: Presenting in the Digital Age
3110/w: Organizational Communication
3120/w: Small Group Communication
3130: Comm. in Conflict Management
3198: Variable Topics in Professional Comm.

200's: Interpersonal Communication

2200: Interpersonal Communication (core)
3210: Gender in Communication
3220/w: Intercultural Communication
3222/w: People of Color and Interpersonal Comm.
3230: Marital and Family Communication
3240: Nonverbal Communication
3241: Motivation and Emotion
3298: Variable Topics in Interpersonal Comm
4200/w: Advanced Interpersonal Communication

300's: Media Effects and Audiences

2300: Effects of Mass Media (core)
3310/w: Media Literacy and Criticism
3320: Media & Diverse Audiences
3321: Latinas and Media
3322: Soap Opera / Telenovela
3330/w: Children and Mass Media
3398: Variable Topics in Media Effects
4300/w: Advanced Media Effects

400's: Communication in Context

3410/w: Political Communication
3415: Protest and Communication
3420/w: Health Communication
3430/w: Science Communication
3498: Variable Topics in Specialized Comm.
4411: International Communication and Conflict

500's: Persuasion and Promotion

2500: Persuasion (core)
3510: Marketing Communication
3520: Communication Processes in Advertising
3530: Public Relations
3598: Variable Topics in Persuasion and Promotion
4501: Advanced Persuasion and Communication
4510: Comm. Campaigns and Applied Research
4530w: Public Relations Writing
4540: Crisis Communication

600's: Communication Technology

2600: Media in the Information Age (core)
3600: New Communication Technologies
3605: Communication Technology & Social Change
3610/w: Computer-Mediated Communication
3698: Variable Topics in Communication Technology
4640/w: Social Media - Research and Practice
4650: Human-Computer Interaction

700's: Multimedia Production

2700: Fundamentals of Digital Production
3700: Visual Communication
3798: Variable Topics in Multimedia Production
4710: Narrative Digital Video Production
4720: Nonfiction Digital Video Production
4799: Independent Study in Multimedia Prod.

Immersion Courses

4979: Digital Portfolio
4981: Internship in Communication
4982: Research Practicum
4996: Undergraduate Research
4997w: Senior Thesis
4999: Independent Study
Major and Minor
The new major raises the number of credits in communication, expands the number of core courses required, and adds an Immersion Courses requirement. Each of these changes will allow our graduates to create a clearer picture of their education upon completion of the degree. For the minor, requirements remain flexible to meet the diverse needs of interested students. Across both, students have the option to pursue depth (by working extensively in one or two course series) or breadth (by selecting courses across the curriculum.)
Communication Major
COMM 1000 and COMM 1100.
30 credits in 2000-level or above COMM courses, as follows:

Methods: COMM 2000q or 2010q
4 of 5 Core courses (COMM 2100, 2200, 2300, 2500, 2600)
15 additional credits in COMM, including:

At least one COMM writing (W) course
At least three credits in Immersion courses

12 outside related credits at 2000-level or above (CLAS requirement)
Communication Minor
COMM 1000 and COMM 1100
15 credits in 2000-level or above COMM courses, as follows:

Methods: COMM 2000q or 2010q (or equivalent)
2 of 5 Core courses (COMM 2100, 2200, 2300, 2500, 2600)
6 additional credits in COMM
Core Courses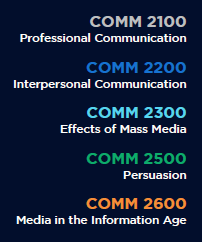 Core courses teach students about the breadth of the communication discipline while providing the foundation for deeper inquiry needed in our 3000- and 4000-level courses. For both the communication major and minor, core courses represent a substantial amount of required coursework in a student's plan of study. While each core course is uniquely suited to its subject matter, they collectively aim to accomplish the following goals in support of the undergraduate program:
Develop competencies in the National Communication Association's key Learning Outcomes to ensure our graduates meet the education standards of the discipline.
Frame the discipline of communication clearly, including the roles of theory and research in its development, to prepare students to engage with more nuanced topics and challenges.
Empower students to think like a communication expert when engaging with social, professional, political, and technological issues.
Establish the self-efficacy, professionalism, and problem-solving skills that students need to succeed in advanced courses, professional careers, and graduate-level work.
The Department offers five Core courses, which also serve as important prerequisites to advanced courses in the program. All communication majors must complete at least four of the five courses as part of their plan of study; communication minors must complete two of the five courses.
Immersion Courses
Understanding communication from a theoretical and methodological perspective is critical to the success of our students, but this knowledge is not sufficient without direct experience. Immersion courses serve as a supported environment where students are encouraged to apply and experience the concepts, theories, and ideas they have learned in the classroom.
Through immersion courses, students will:
Devote considerable time and effort to work that develops practical skills in communication in preparation for future professional and academic work.
Formulate meaningful working relationships with experts (faculty, alumni, corporate professionals, community leaders) over an extended period of time.
Receive frequent constructive feedback about their performance to help better their work.
Develop the experience, resourcefulness, and ethical grounding to act with confidence in academic and professional settings.
Given the diversity of our student body, we offer a variety of different immersion courses so students can choose the experience that best fits their interests, with the option to complete more than one as part of their plan of study. All communication majors must complete a minimum of three credits through one or more immersion courses:
Digital Portfolio (COMM 4979) allows students to continue to improve their digital production skills to assemble a collection of work that showcases their academic and creative talent.

Internship (COMM 4981) facilitates student entry into the business environment through supervised work in professional and community organizations.

Research Practicum (COMM 4982) connects students to ongoing research projects to contribute to the development, operation, or maintenance of the projects with careful supervision from faculty and graduate students.

Undergraduate Research (COMM 4996) provides students who are ready to lead their own research, the space and support to do so in partnership with at least one department faculty member.

Senior Honors Thesis (COMM 4997w) supports honors students in the research and writing of an undergraduate thesis with the support of a faculty advisor.

Independent Study (COMM 4999) enables students to pursue individualized, advanced projects under the guidance of a faculty member.
More to come…
While developing this new curriculum, our conversations shifted quickly from curricular requirements and structures to the type of culture we want to develop in our Undergraduate Program. To sustain a great program, we need to be clear on our vision, and incorporate our values into each learning experience. Keep an eye out for more on our vision, our values, and how we plan to incorporate those into our Undergraduate Program.
TL;DR
Just want the basics? For a summary of the new Communication curriculum, check out this video from Director of Undergraduate Studies Steve Stifano for students thinking about a major or minor in Communication.
---