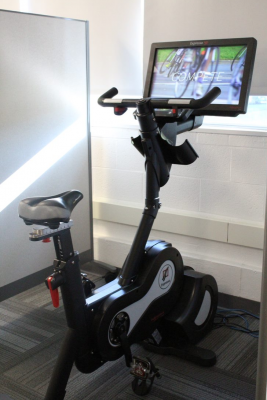 After a lot of hard work on proposals, Professor Rory McGloin was awarded with the Collaboratory on School and Child Health 2018 Encore Grant for his latest project, "Gearing up! Using Exergaming to Impact Health in Overweight Children". Professor McGloin along with Department of Kinesiology and Department of Educational Psychology's Jaci VanHeest will be conducting research on Children and their attitudes towards exercise.
McGloin and VanHeest will be conducting a 10 week study where they will give children in schools access to exergaming bikes to see if it will increase their physical activity throughout the course of the study, as well as an increase in self-efficacy towards physical fitness. McGloin hypothesizes that exergames will help engage students in a unique way because it mimics the immersiveness of a video game.
McGloin and VanHeest plan on using the grant to purchase an exergaming bike which will be used to set up a remote lab location in a local school system. Students will receive Amazon gift cards for participating to encourage the continuation of participation. McGloin also stated that part of the grant will be set aside to hire a motivated and responsible student to assist in running the lab.
Professor McGloin deems this research important because obesity continues to be a major issue in society, and the cause for concern increases as time spent engaging in physical activity is diminishing. In the school systems, technology is displacing time spent being active at an alarming rate. The researchers believe that doing this long-term intervention will allow them to see how they can respond to the novelty of the device, and if it has a future within school programs.
When asked about his interest in the research, McGloin stated that it's important to determine  the effects of these new technologies and many of the opportunities that they may or may not provide to users. He finds it very rewarding to work on research that can ultimately improve someone's lifestyle and make a difference in their lives. This study is a great way to get people to ask themselves about the effects media has on them.
The study will be taking place over the course of the next year. After the study, the researchers hope to present their findings with members of the local community to raise awareness for children who are obese, or at risk, and may need help achieving their daily activity goals.
---